ColecoVision Publishing
Releasing NEW Games for Classic Systems!
As the Cosmo FigCOSMO FIGHTER 3hter Commander

As commander of the Cosmo Fighters, you have successfully defended the planet Xunor from an Alien Attack in Cosmo Fighter 2.

Unfortunately, you have failed to destroy the enemy fleet entirely. And now, after two years of peace in the galaxy, it's back and once again seeking destruction! Again, you'll have to face a dangerous fleet of enemy fighters before facing the final challenge...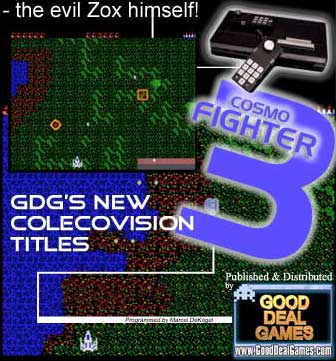 Only $34.99
AVAILABLE
IN LIMITED QUANTITIES!


Special Thanks to Daniel Bienvenu, Marcel DeKogel, Philipp Klaus Krause & John Dondzila.
E-Mail:
GOOD DEAL GAMES
GOOD DEAL GAMES HOMEPAGE
Copyright © 2008, GOOD DEAL GAMES