GDG Publishing
Releasing NEW Games for Classic Systems!
Citizen X
for the SEGA CD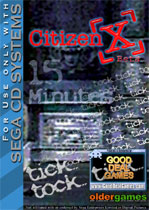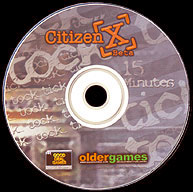 OUR WORST FEARS HAVE COME TRUE!!

An elite terrorist organization lead by a madman has vowed to destroy the world as we know it. Saving the world
might not have been in your weekend plans but things change.

You are the only one left to take on a task which literally fell into your lap. A dying government agent begs you to continue her failed mission while handing you a hi-tech watch connected to the command center now giving you orders.

Diseased sewer rats, psychotic circus clowns, mafia hitmen, and cannibalistic martial arts masters are just a few of the obstacles in your way. Let's not forget, you will still need to find the antidote to save the human race from biowarfare extinction!

Oh yeah, one more important thing
-- you only have 15 minutes...
NNot affiliated with or endorsed by Sega Enterprises Limited, Digital Pictures or Hasbro.

Available Now!
Only $19.99


BETA NOTE
This game carries the 'beta' tag as is it is missing one intermission video clip that was never filmed.
This slight omission does not effect the gameplay of Citizen X.

LOST IN THE MAZE
For those of you that get lost in the sewer maze, we have posted the sewer maze solution and maps.
A BIG thanks to Richard Aldridge for compiling the information and mapping the game.
These maps are .ppt files and open in Microsoft Power Point, as well as your web browser.

Citizen X Map Page 1
Citizen X Map Page 2
Citizen X Map Page 3
Citizen X Map Page 4
Citizen X Map Page 5
Citizen X Map Page 6



E-Mail: GOOD DEAL GAMES
GOOD DEAL GAMES HOMEPAGE

Copyright © 2008, GOOD DEAL GAMES