GDG Publishing
Releasing NEW Games for Classic Systems!
Mighty Mighty Missile
for the SEGA CD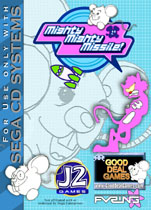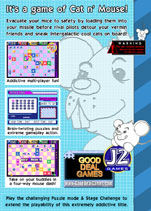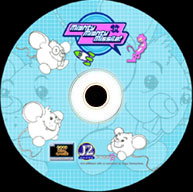 It's a game of Cat n' Mouse!!

Evacuate your mice to safety by loading them into your missile
before rival pilots detour your vermin friends and sneak Intergalactic cool cats on board!

Brain-twisting Puzzles and
Extreme Gameplay Action.!!

NNot affiliated with or endorsed by Sega Enterprises.

Available Now
Only $24.99

Single Player Action
or Addictive Multi-Player Fun!!
Take on your buddies in the Four-way Mouse Dash!


Play the challenging Puzzle Mode & Stage Challenge
to extend the playability of this EXTREMELY ADDICTIVE TITLE!

Mighty Mighty Missile game content is evolutive!
The more puzzle stages that you clear, the more maps appear in the multi-player modes.
PLUS, the more you play, the more BONUS GAMES are unlocked!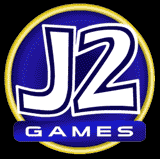 E-Mail: GOOD DEAL GAMES
GOOD DEAL GAMES HOMEPAGE

Copyright © 2008, GOOD DEAL GAMES