GDG Publishing
Releasing NEW Games for Classic Systems!
STAR STRIKE
for the SEGA CD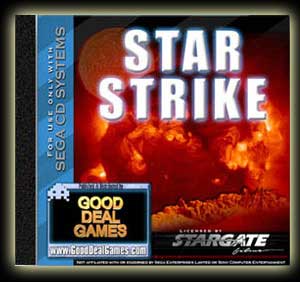 "This is Blue Wing 7 decellerating to sub-lightspeed entering normal space time
- Galatia, we're coming home!"
And bad news he brings...

"Scouts have confirmed the facts: An enemy Battle Destroyer has been spotted entering Sector Delta Five-Niner carrying Proton weapons. They are going to stop at nothing to destroy everything in our galaxy!" -- Admiral Rakin, Commanding Officer

They know our Secrets!

Launching from repair bay 28 of the Galatea, you guide your Blue Fighter Wing through the Launch Ring at lightspeed, entering enemy territory, sector Delta Five Niner! Your mission: Rescue the Orange Wing Center which was captured alive, before the enemy ingests his brain -- A brain which they consider to not only be an excellent source of protein, but also, once consumed, transfers all knowledge to the species - Including military secrets, vital to the survival of all mankind!

Can you rescue your comrad & Destroy the opposing Protoid Forces?

Only $29.99



ATTENTION PAL CUSTOMERS:
Good News: This game is FINALLY available in PAL format again AFTER a 12 YEAR HIATUS!
LIMITED QUANTITIES: Grab your copy while you can!


Not affiliated with or endorsed by Sega Enterprises Limited or Sony Computer Entertainment.




E-Mail: GOOD DEAL GAMES
GOOD DEAL GAMES HOMEPAGE

Copyright © 2013, GOOD DEAL GAMES